The carrying of knives, as well as the making of knives is a tradition with many Romani groups, the Sinti and Romanichals and Cale in the front line here.
The Romanichals, including the Veshtike Rom of the Rom Polska, who are of the Romane Chave, do make the traditional Romani Churi, that is often referred to amongst the Romanichals from England as the "peg knife"; and in that selfsame tradition that I, at Veshengro Churia, make the Romani Churi. The Churi, as in the olden days, is made by recycling old knives for the blades, fitting new handles of local hardwoods, as well as using recycled leather for the sheaths. All knives are made from scrap knives. All knives are handcrafted, as are the leather sheaths.
Traditionally bone or wood handled table knives with spike tang were being used for this mainly and the steel was either high grade carbon steel or Firths Stainless steel, the first ever stainless steel and the finest, though other old knives too that came into the hands of the Rom thus making churia were made use of in making the traditional Romani Churi. The most common blade style for this knife has always been the sheepsfoot blade. This makes the Romani Churi is sort of like an xacto knife on steroids and all cutting chores were done with this churi, from cutting pegs (therefore the name 'peg knife'), over cutting an apple to skinning a shoshoi (rabbit) or a rukmengro (squirrel).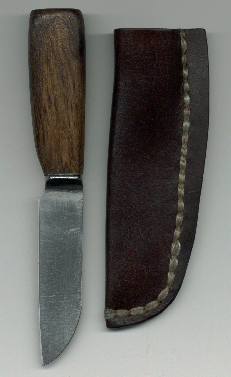 Sample Romani Churi made from a Firths Stainless table knife with a handle of yew wood. Handstitched sheath in the backwoodsman-style.